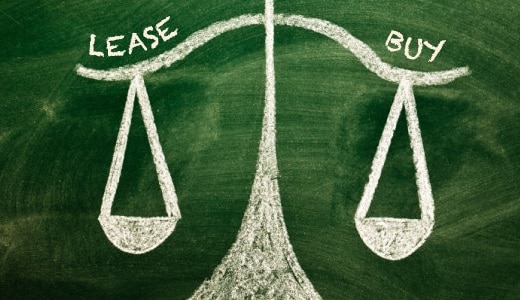 When you buy a vehicle, you pay for the entire cost of a vehicle, regardless of how many miles you drive it or how long you keep it. Monthly payments are higher than for leasing. You typically make a down payment, pay sales taxes in cash or roll them into your loan, and pay an interest rate determined by your loan company based on your credit score. You make your first payment a month after you sign your contract. You may decide to sell or trade the vehicle later for its depreciated resale or trade value.
When you lease, you pay only a portion of a vehicle's cost, which is the part that you "use up" during the time you are driving it. Leasing is a form of financing and is not the same as renting. You have the option of not making a down payment, you pay sales tax only on your monthly payments, and you pay a financial rate, called money factor, which is similar to the interest on a loan. You may also be required to pay fees and possibly a security deposit that you don't pay when you buy. You make your first payment at the time you sign your contract — for the month ahead. At lease-end, you may either return the vehicle, or purchase it for its depreciated resale value. You may be charged a lease-end disposition fee if you return it.
Lease-versus-Buy Example
As an example, if you LEASE a $20,000 car that will have, say, an estimated resale value of $13,000 after 24 months, you only pay for the $7000 difference (this is called depreciation), plus finance charges, plus possible fees. You return the car at lease-end, or buy it to own it.
When you BUY, you pay the entire $20,000, plus finance charges, plus possible fees. You own the car at the end of your loan, although its value is less than the $20,000 you initially paid.
This difference is fundamentally why leasing offers significantly lower monthly payments than buying.
How are Lease and Loan Payments Different?
Lease payments are made up of two parts: a depreciation charge and a finance charge. The depreciation part of each monthly payment compensates the leasing company for the portion of the vehicle's value that is lost during your lease. The finance part is interest on the money the lease company has tied up in the car while you're driving it. In effect, you are borrowing the money that the lease company used to buy the car from the dealer. You repay part of that money in monthly payments, and repay the remainder when you either buy or return the vehicle at lease-end.
Loan payments also have two parts: a principal charge and a finance charge, similar to lease payments. A loan company or bank issues money directly to you or a dealer, and you agree to repay that money, with interest, over time. The principal charge pays off the full vehicle purchase price over the length of the loan, while finance charge is loan interest on monthly unpaid balance. The finance company or bank will hold the vehicle's legal title until the loan has been completely repaid.
However, since all vehicles depreciate in value by the same amount regardless of whether they are leased or purchased, part of the principal charge of each loan payment can be considered as a depreciation charge, just like with leasing — it's part of each monthly payment that you never get back, even if you sell the vehicle in the future. It's lost money for which you'll have nothing to show.
The remainder of each loan principal payment goes toward equity. It is what remains of your car's original value at the end of the loan after depreciation has taken its toll. Equity is resale or trade value. It's what you get back if you sell the vehicle — or credit you receive if you trade. The longer you own and drive a vehicle, the less equity you have. At some point in time, after the wheels have fallen off and the engine is worn out, the only equity left is scrap value. You never get back the full amount you've paid for your vehicle.
Buy versus Lease - Savings Account or No Savings Account
So, buying a car with a loan is essentially like putting money into a declining-value savings account — you never get out as much as you put in. A portion of every payment you make is lost to depreciation and finance charges. What you have "to show" for your investment when your loan is paid off is only the part that is left over after depreciation and interest. A terrible investment by any measure. But cars are not usually purchased as investments, are they?
Leasing, then, is similar to buying, but without the equity "savings account." You only pay for what you use and you don't put anything extra into "savings." It's true that you'll own nothing at the end of a lease; you'll have nothing "to show" for the money you've put into it. But... what you don't own is the same part of the car's original value — the depreciated part — that a buyer too doesn't own at the end of his loan. Again, a car's value depreciates the same amount whether it is leased or purchased. That money is gone forever, lease or buy.
With leasing, you may have the option of putting your monthly payment savings into more productive investments, such as mutual funds or stocks that have the possibility of increasing in value. In fact, many experts encourage this practice as one of the benefits of leasing, though most people will typically find other uses for the money they save by leasing — such as paying the mortgage or buying groceries.
Leasing Can be a Little More Complicated
Because leasing is somewhat more complicated with residuals, money factors, acquisition fees, etc.; it shouldn't be undertaken quite as casually as you might with a simple loan. There are more opportunities to misunderstand and make mistakes.
GAP Protection
Most car leases have automatic built-in gap coverage, while car purchase loans almost always do not. Gap coverage, or gap insurance, pays the difference between what you owe on your loan or lease, and what your vehicle is actually worth if your vehicle is stolen or destroyed in an accident.
Why is gap insurance important? Because it's very common, in these days of long-term loans and leases, rolled-over and refinance loans, and little or no down payment, to be "upside down" – to owe more on you loan or lease than you car is actually worth.
This can mean you'll still owe hundreds or thousands of dollars to the finance company even after you insurance has paid for your car that has been totaled or stolen. This turns out to be a huge shocking surprise for most people caught in this unfortunate situation.
So, nearly all leases have built-in gap protection, but loans do not. You're better protected with a lease, unless you purchase the gap insurance separately.
Which is Better – Buying or Leasing?
As with any question of this type, there can be more than one answer, depending on particulars.
Lease or Buy? What's Important?
It's personal. All of us have different personal styles, objectives, and priorities — in cars, life, and in finances. Car lease-versus-buy decisions must be made with your own lifestyle and priorities in mind. What's right for one person can be totally wrong for another.
LEASE - If you enjoy driving a new car every two or three years, want lower monthly payments, like having a car that has the latest safety features and is always under warranty, don't like trading and selling used cars, have a stable predictable lifestyle, drive an average number of miles, properly maintain your cars, and understand how leasing works, then you should lease.
BUY - If you don't mind higher monthly payments at first, like holding on to your cars, prefer to build up some trade-in or resale value (equity), enjoy the idea of having ownership of your car, like paying off your loan and being payment-free for a while, don't mind the unexpected cost of repairs after warranty has expired, drive more than average miles, prefer to drive your cars for years to spread out the cost, like to customize your cars, might have lifestyle or job changes in the near future, and don't like the risk of possible lease-end charges — then you should buy.